Goodshuffle Pro's engineering team is constantly working to make our best-in-class event rental software even better.
In fact, in the past year alone, we launched more than 300 upgrades to our product. Some were big and some were small, but all of them were specifically tailored to help event pros save time, book more business, and dazzle their clients.
If you haven't seen our software in a while, here are 8 New Features you should definitely be aware of.
1. Create & Send Custom Email Templates
Gone are the days of choosing between a fast client email and a great client email. With custom email templates, you can easily do both.
Create templates for every common point in the customer journey, including "personalization tokens" that automatically add details like the client's name. You can also easily edit each template before sending, in case one client needs an extra line added or deleted.
Templates are also fully customizable for your brand — including the ability to add custom email signatures with photos, logos, hyperlinks, and more.
2. Set Quotes to Expire Automatically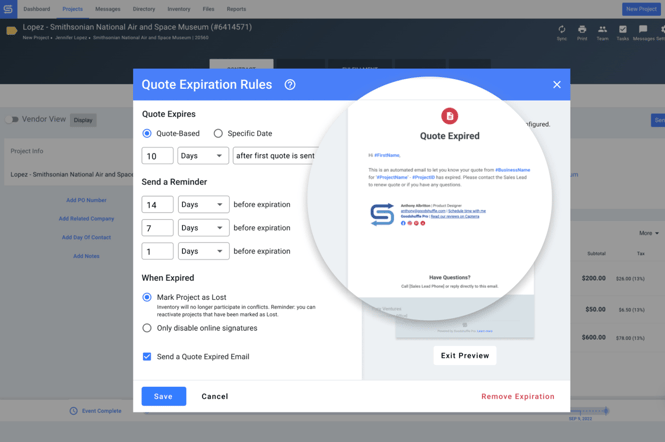 Tired of following up with slow-moving clients? Or worse, having clients you considered "lost" unexpectedly sign a quote you can no longer service?
Quote Expiration allows you to solve both problems. Set quotes to expire by a certain date or time, then customize the number, timing, and type of email reminders you want clients to receive. The emails will send automatically, allowing you to spend more time on the rest of your business.\
The best part? Seeing an expiration date makes clients more likely to sign contracts immediately. Which means that in addition to saving time and closing more deals, you also get paid faster on the deals you close.
3. Detect & Manage Real-time Inventory Conflicts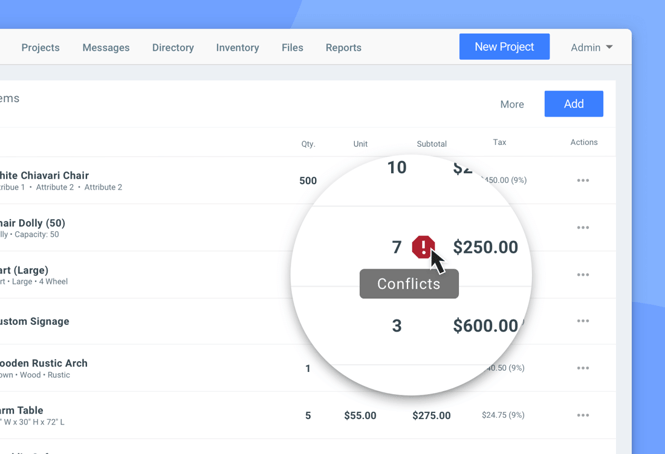 Goodshuffle Pro has always provided advanced tools to prevent overbooked inventory — but we've recently made it easier than ever.
Every time you add a piece of inventory, the system will alert you to not just confirmed inventory conflicts but potential inventory conflicts. Potential inventory conflicts occur when you have inventory out in a quote, but the contract has yet to be signed.
With a clear view into both confirmed conflicts and potential conflicts, you can make faster and more informed decisions on how to react.
4. Create Project Templates & Duplicate Projects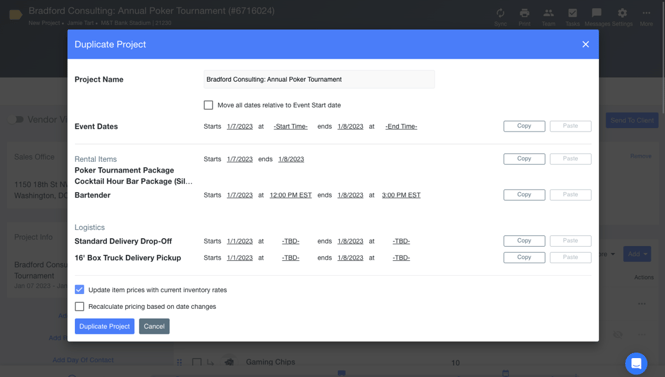 Whether you're using another software or a homegrown solution like a spreadsheet, our drag-and-drop proposal builder is guaranteed to save you hours of time — all while improving your client experience.
We've recently made this process even easier with Project Duplication, which allows you to copy all the information from one proposal to another, rather than building a whole new proposal from scratch. Perfect for recurring business and common project setups you want to use as "templates."
5. Customize Pricing on Inventory Packages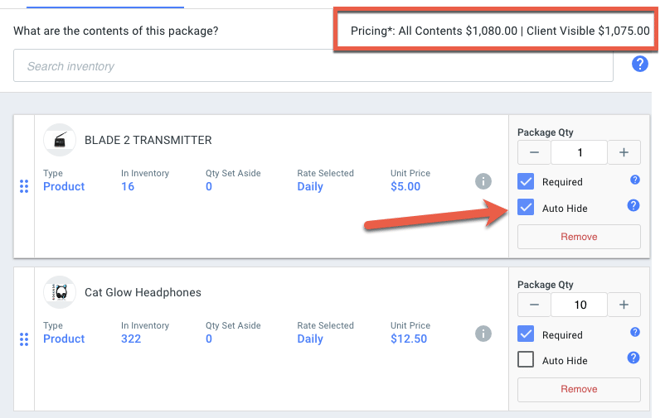 In Goodshuffle Pro, you don't just build packages: You customize every aspect of them. You can add or change inventory on specific proposals, and even hide items (such as cables) from the client view while keeping them on the pull sheet for your warehouse.
Now, you can also customize how you charge for packages. In addition to daily, hourly, and flat-free pricing, you can charge by the sum of all package contents or the sum of all client-visible package contents. Pick the pricing that works best for your business, and maximize profitability.
6. Get Immediate Customer Support & Training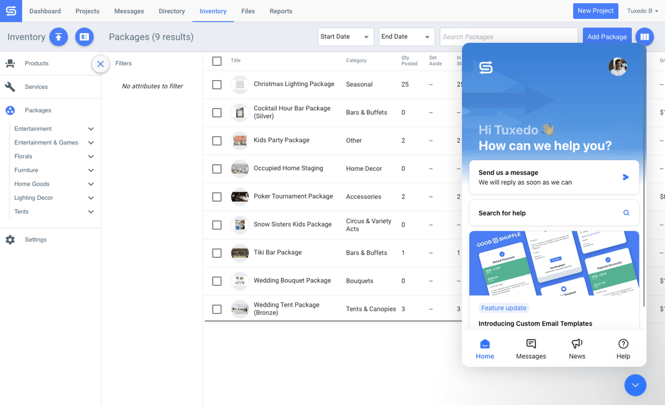 Our customer support teams are widely praised as the best of any event software, and we're excited to be extending their coverage in 2023.
In addition to 1-on-1 trainings with our Onboarding Specialists, coachings with our Customer Success team, and resources in our Help Center, you can now reach on-demand Customer Support every weekday from 9:00am to 7:30pm EST. Just click the blue chat bubble on our website, and Goodshuffle Pro experts will troubleshoot your issues in real-time.
In the words of Tim Daugherty from Sperry Tents New Jersey: "The only thing better than the software is the customer service. It is probably the best I've ever experienced."
7. Receive Fast Loans Through Stripe Capital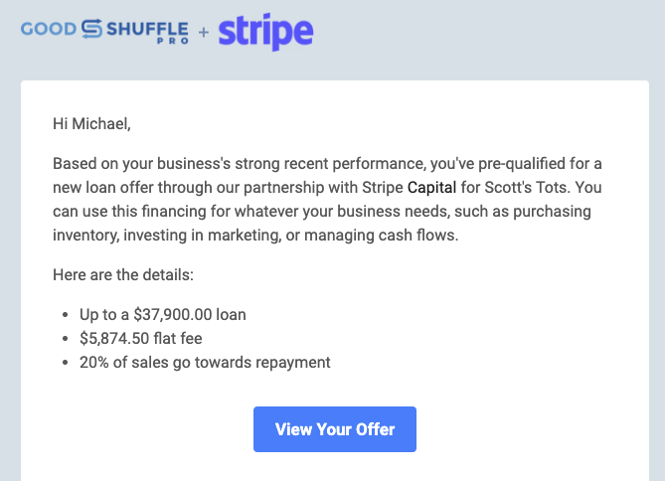 Need an injection of cash to buy a unique piece of inventory, impress a special client, or weather a seasonal surge in demand? Worry no more.
Our partnership with Stripe Capital offers incredibly fast and flexible financing solutions. Loans are typically deposited in 1-2 business days, and they're repaid automatically with a percentage of sales through Goodshuffle Pro — which means you only pay when you're getting paid.
8. Add Even More Security to Your Account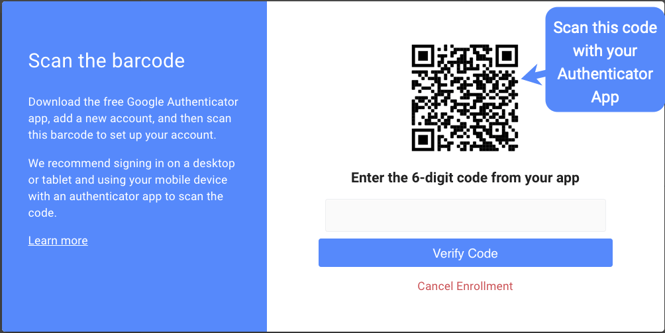 In 2022, we rolled out two-factor authentication (2FA), which provides a new level of security for Goodshuffle Pro businesses. Account owners can require employees to confirm their identity through a third-party app each time they sign in — a quick and simple process that protects their valuable data.
We also recently rolled out password strength requirements, which prevent employees from using simple passwords that leave your account vulnerable.
Want more tips on strategy, trends, and best practices delivered straight to your inbox?