Technology is constantly evolving, and it can seem difficult at times to keep up with the latest and greatest tech innovations. Luckily, some easy additions to your event company's technology arsenal are timeless and will quickly improve your ability to work online and with clients. Here are some of the top 5 must-have tech additions that will make your day-to-day all the easier:
#1 Password Managers
Password managers are one of the most important tools you can enact within your company. While doing exactly what you think they would do ( your passwords) they are more important than just that. With cyber-attacks becoming more common, and people having a tendency to repeat the same password over and over for a plethora of sites, ensuring that your login information is secure is extremely important. Most password managers will not only store your existing passwords so you never have to remember a password again but will offer new and safer passwords that make it harder for cyber-attacks to target and hack.
Here are some of our favorite password managers:
1Password
: Business Subscription ($7.99 per user/mo)
1Password's Business Subscription is a great way to jump into protecting the whole office and is priced per person working. For the cost of one Netflix subscription per person, really, protecting your office from hackers and cyber-attacks is priceless. 1Password offers apps for Mac, iOS, Windows, Android, Linux, and Chrome OS, along with hosting unlimited shared vaults and item storage, admin controls to view and manage permissions, two-factor authentication, 5GB of storage per person, and 20 guest accounts for limited sharing. 1Password is also our preferred password manager at Goodshuffle Pro— and we're all about security.
LastPass
: Business Subscription ($6 per user/mo)
LastPass is a popular option for individuals who want to protect their passwords, along with managing their information. With an unlimited number of users, 1,200+ pre-integrated SSO apps, 100+ customizable policies, and customizable user management, LastPass is a great option for a little bit less money each month. This subscription also offers add-ons such as advanced single sign-on for $2 per user/mo and advanced multi-factor authentication for $3 per user/mo.
#2 A Second Monitor
A second monitor may seem like a bit of overkill— if you've already got one screen, what can another one add? The answer is a lot. Using a second monitor makes it easier and faster to use multiple programs simultaneously, along with offering a wider space to host all of your programs and tabs. Say you're using your inventory management software and want it full screen, but also need to respond to clients' emails. Instead of using a split-screen, or having to jump back and forth between tabs, a second monitor will allow you to have your software up in its full-screen form while moving your email to your second monitor so you can see emails come in immediately without having to stop your work on your first screen.
When choosing your second monitor, it is important to note the size, along with the resolution quality. If your desk can handle a second horizontal monitor, then that's great! Most people choose to have a horizontal second monitor, but vertical monitors are great at saving desk space while still allowing for the productivity benefits of a second monitor. Screen resolution is the quality of the images on your monitor's screen. The resolution is important to take into consideration because if the clarity between monitors is vastly different, this will cause strain on your eyes, so note the resolution of your first monitor and match your second monitor's resolution with the original. This is like if you had two different prescriptions in your glasses, but neither one was getting you to 20/20 vision, ouch!
Here are some great deals for second monitors:
Budget-Friendly
: HP P24h G4 FHD Monitor ($199)
This monitor is great for those who want to stay on a budget while still getting the most bang for their buck. With a 24" screen, full HD display, and 178° viewing angles, this monitor is great for a long-lasting and impressive second monitor.
Do-It-All
: LG 24" TAA IPS FHD Monitor ($199)
While a bit pricier than the previously mentioned monitor, this is a great one for those who are indecisive about whether they want a horizontal or vertical monitor. This LG monitor can be vertical or horizontal, comes with a full HD display, a 24" screen, and is wall-mountable to save even more desk space!
Laptop's Best Friend: ASUS VA24EHE Eye Care Monitor ($109)
If you are on the go a lot and your primary screen is a laptop, this monitor is for you. Having a second monitor is crucial if you work from a laptop, and allows for your work to be shown on a bigger screen to see your work in its full glory. This monitor is frameless, is easy to sync to your laptop, has low blue light, and is also wall-mountable!
#3 An External Hard Drive + Cloud Storage
Nowadays, everything we do should be cloud-based and kept in an online storage space, such as Google Drive, Microsoft OneDrive, and DropBox. Email, software, and even your taxes and bank activities are cloud-based. Some people used to think that was a security risk, but the opposite is true. With the cloud, your data is in a server managed by security professionals. It used to be on your devices managed by you, and I'm guessing you're not an IT security professional! Your goal is to find trusted providers for storing your data, BUT if you have documents and files you do store locally (like your tax documents), those can go on an external hard drive so you can physically hold on to them.


Additionally, external hard drives are great for storing documents that you might not access all the time and allow you to clear up space on your online storage sites for the most relevant and used documents. It's best practice to back up your computer every 1-2 months to your external hard drive. They are easily plugged into your computer and portable, which makes keeping your most important documents and information extremely easy.

External hard drives come in a myriad of shapes and sizes, along with varying price points depending on how much you want to store on them.

Here are some great options for both external hard drives and cloud storage:
Budget-Friendly
: WD - Easystore 4TB External USB 3.0 Portable Hard Drive ($99)
With 4 terabytes of storage, this USB-compatible, easily portable external hard drive is perfect for your everyday work. The option to turn on automatic backup is also great to back up your information if you ever forget to manually back up your information. It is also compatible with both Mac and PC computer systems!
Photo and Video:

LaCie - Rugged 1TB External USB 3.1 / Type C Portable Drive ($279)
If you have a lot of videos and photographs, 1 terabyte of storage is great for exclusively storing your multimedia files. 1 TB can store roughly 250,000 photos, 250 movies, or 500 hours of HD video. If you want to store documents as well as multimedia files, this will be able to hold 6.5 million document pages! This is a popular external hard drive option amongst YouTube content creators and graphic designers, and is also perfect for storing all the incredible photos of your event setups, which are key to your marketing and business growth!.
Everything, Ever
: SanDisk Professional - G-DRIVE 18TB External USB-C 3.2 Gen2 Hard Drive ($519)
If you want a hard drive that can hold everything you've ever done, ever, then this is the hard drive for you. While running pricier than the other options listed above, this hard drive will be your best friend for the rest of your life. 1TB can hold an impressive amount of videos, photos, and documents, so imagine the limitless capabilities that 18TB will offer you. This would be a great option for holding your entire company's documents and would be planted in the office for a long time.
Google Is The Future: 100GB of Google Drive storage ($1.99/month)
Get 100GB of Google Drive storage (which includes Drive, Gmail, and Google Photos) for $1.99 each month. You can even prepay annually to save 16%! Google cloud storage is a fantastic option because so many people (including your partners and clients) already use Google. Its user experience is top-notch, which makes using it easy as pie.
You can purchase different levels of DropBox plans for whatever suits your needs. Working solo? The 2,000GB individual plan ($11.99/month) is likely perfect for you. Want to easily share files between family members? Get the family plan for $19.99/month. Implementing it for your event company? Utilize one of the business plans for between $15 and $25 per user per month). The world (or the cloud!) is your oyster.
#4 Canned Air
No, this is not a joke! Buying canned air is a crucial move for making sure your computer is up to speed. Blowing the dust from your keyboard actually makes a difference because the dust traps the heat from the processors and makes your computer's fans run like crazy (that's that whirring noise you're hearing), and it slows down everything and can actually cook it all. Compressed air— not a practical joke. Just practical.
Here are some great deals for canned air:
A Dollar A Day
: Falcon Dust-Off Compressed Gas Disposable Cleaning Duster ($7.39)
This is one of the cheapest, fastest options for compressed air. It's compact, uses 100% Ozone safe Bitterant, cheap, and has the same efficient blasting power as larger models.
Blow It Off
: Blow Off Air Duster - Canned Air ($16.99)
This useful duster cleans your devices with a steady stream of sterilized air. Not only is this helpful for your electronics, but you can use it for other hard-to-reach dusting jobs.
#5 Event Rental Software
Powerful, easy-to-use event rental software like Goodshuffle Pro is essential for every tent and event company. With sales tracking, customizable quotes, inventory management, reporting analytics, and team management tools, Goodshuffle Pro is your event company's best friend and biggest supporter. Goodshuffle Pro is the best option for helping you build your brand with photo-driven proposals, online contract signatures, automated payments & reminders, easy shopping & checkout options, policies & discounts per client, and much more to make your business run as smoothly as possible while alleviating your day-to-day management needs and making life easier!
Our pricing options are also incredibly flexible, based on what you need. There's a baseline starting price of $99 per month (billed annually), which includes all core features, unlimited training and support, unlimited contracts and inventory items, and one free limited user seat, Goodshuffle Pro is here to help you achieve your business goals. You can customize your subscription by adding different types of users at different price points (all billed annually), with Full Users at $49/mo, Limited Users at $19/mo, and Unlimited Read-Only Users at $99/mo. You can also add important integrations such as QuickBooks Online at $39/mo and Website Integration at $79/mo, making your Goodshuffle Pro experience exactly what you need.
While technology can be intimidating at first, it really does make your life and the lives of your team members easier. This list of 5 tech must-haves is crucial to the growth and success of your event business, so don't wait! Do not think you have to get everything listed above right away, as even a single change will improve your safety, productivity, and overall comfort within your office and business. Think about which tech your company needs the most, and then slowly ease into diving further into tech advancements. Your company's safety and security will thank you, and so will your overall productivity!
Want more tips on strategy, trends, and best practices delivered straight to your inbox?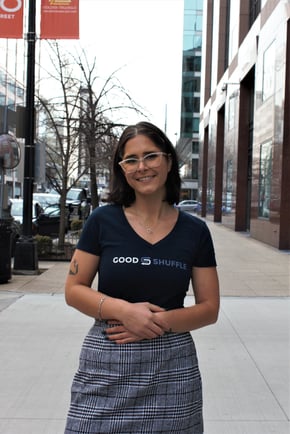 Maria Russinovich
Maria Russinovich is a recent graduate of American University and is a Campaign Marketing intern at Goodshuffle Pro, a software company dedicated to empowering events industry professionals.