Planning an event and finding the right vendors is a time consuming, laborious task. So why not make the process of looking for and selecting an event rental vendor as easy as possible for your clients? When you achieve this stellar client experience, you're guaranteed to book more business. Do this with the Website Integration on Goodshuffle Pro!
The Website Integration is a customizable plugin for your website that allows clients to shop your inventory directly on your website. The integration is truly customizable, allowing you to edit the colors, display and overall layout to fit seamlessly into your website. With the wishlist, you create custom collections to organize your inventory in a way that makes the most sense for your customers. We've seen some creative event rental collections from our users and want to share them with you.
1. Holiday collections or themed party collections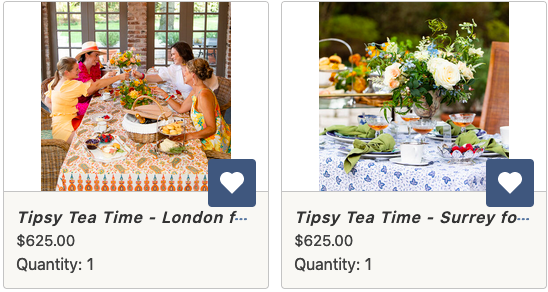 Everyone loves a themed party, but they are a doozy to plan. Finding decor and event rentals that fit a niche theme can be difficult. Creating a collection by theme or holiday is a great way to organize your inventory. For example, our users, Your Butler's Pantry includes collections for specific themes like a "Tipsy Tea Time". This makes party planning a breeze for clients who are searching for specific themed items. This way all of your inventory that fits the theme can be found in the same place.
2. Most popular items
If there's anything we know about marketing, it's that consumers are heavily influenced by the behaviors of others. This can be showcased in the form of a review, comment, or a "most popular" section. This is a phenomenon known as "social proof" and is crucial to securing clients. Creating a collection of your most popular items shows potential customers what's hot this event season. It acts as a suggestion for items they should consider adding to their wishlist. Our users, SouthWest Event and Tent Rentals, do this on their website by having a popular tab with suggestions below for further exploring.

Featuring past events is another way to utilize social proof. Our users, Alpenglow Events, do this seamlessly with their page "Party like the Flippens", showcasing event photos, services provided and inventory rented to put on the event. This shows potential clients the full picture of what their event could look like, encouraging them to make similar purchases.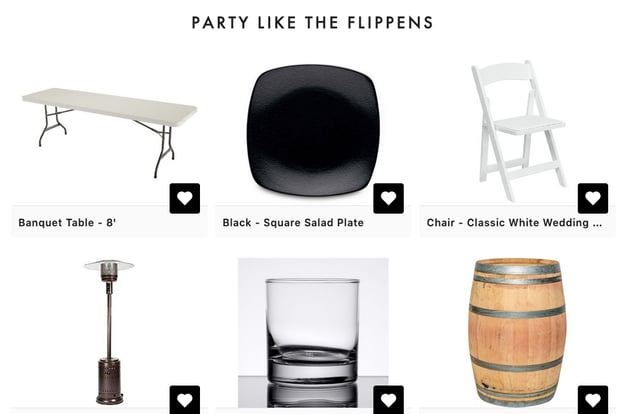 3. Highlight DJs with special skills
Collections aren't limited to organizing inventory. You can include services too! From DJs to character actors, collections are the perfect place to display the services you offer. We have seen users categorizing their services, like DJs, by specialty. This way customers can find the DJ that is perfect for the job they are looking for. For example, DJs can be categorized by their ability to speak multiple languages or create their own mixes for your party. Other DJs may specialize in certain events like mitzvahs or weddings. The more specific you can be with your customers, the easier the search process will be for them.
4. Corporate vs wedding
If you provide inventory for both business and pleasure, consider separating them into their own collection. Brides and grooms generally have a much different vision than does a corporate event planner. Cater to both of these clients with specialized packages built for them. This is executed beautifully on the site of our user, Olympus Tents and Events, whose collections are categorized by type of event such as Wedding & Party, Corporate Events, and Construction. Again, collections make the search process easier for your client, which in turn leads to happier customers.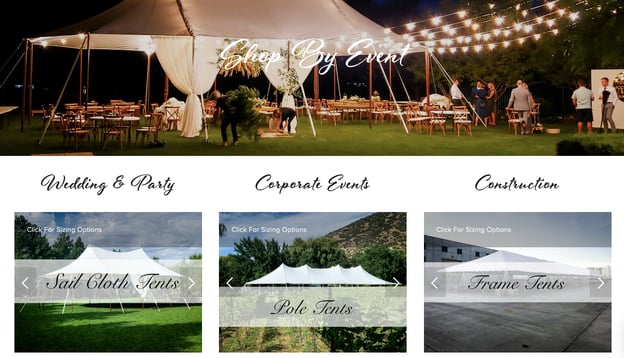 5. Collections for special operations: like COVID19 infrastructure
The event industry has adapted like no other in the past year, designing creative solutions to countless problems. Barriers from Covid-19 forced event professionals to alter the way events are run, including implementing additional safety precautions. Our users, Go-4 Nuge Production Rentals, have a "Safety and Covid-19" collection featuring safety equipment that you may need for your event.

Many event companies have added items like infrared thermometers, temperature screening kiosks, and social distancing floor decals as well. A collection for virtual events and services is another great way to organize inventory. Our users, Fun Planners, do this on their website offering a collection called "Virtual Options".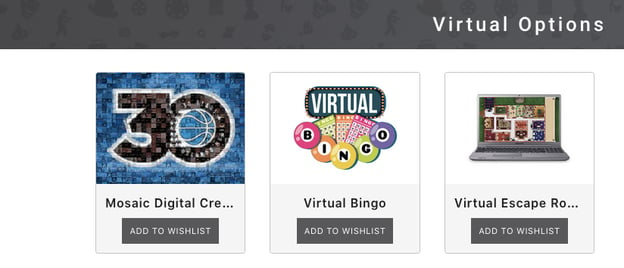 Implementing collections into your websites not only makes your client's life easier, but the sales process is streamlined on your end too. Use these collection ideas for inspiration and select what event rental categories work best for your business and your clients.
Want more tips on strategy, trends, and best practices delivered straight to your inbox?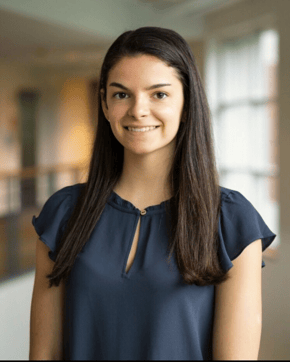 Emily Noel
Emily Noel is a Marketing Intern for Goodshuffle Pro, powerful event software for event companies.