The key to any good event is solid, elegant basics: quality furniture, dinnerware, décor, etc. But if you really want to wow your clients and grow your good events into great events, you'll want to bring in some creative A/V professionals. Skillful A/V additions can support and enhance other aspects of your event, be the pièce de résistance, or anywhere in between. Your budget, event location, and A/V team will determine what is possible, but even small, well-executed A/V features can have a huge impact on clients and guests.
Including A/V features at an event can be spend-y, but they are incredibly useful for showing off an awesome event on social media. Make sure your event company is tagged in the photos and videos and you'll be the talk of the town in no time!
#1 Make pre-recorded content for events (especially hybrid / virtual events)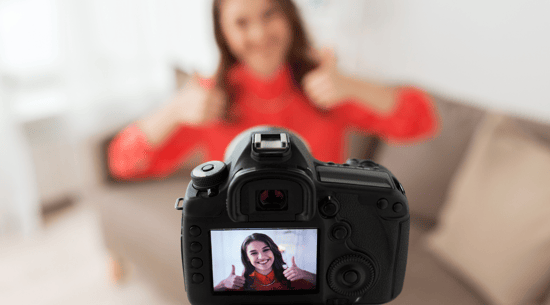 Good news! Live hybrid/virtual events don't have to be completely live. Including pre-recorded interviews, video segments, speeches, etc. will give speakers and presenters more time to prepare and rest between segments. Set up time for your speakers to record their presentations/speeches with A/V pros and you can be sure that the video and audio are clear and professional.
Pre-recorded content will also help overcome common event challenges, such as:
Technical difficulties

- Avoid the dreaded "can you see me now?" portion of a Zoom presentation by pre-recording it. That way, all you have to do is push play.

Scheduling conflicts

- A key potential speaker has another event booked the same day, better find someone else, right? Not anymore! Have them pre-record their speech in advance and play it at the event later.

Manage time constraints

- If your event is tight on time, pre-recording your events can help keep speakers from running over their allotted time. You'll have fewer speakers to monitor for time and can ensure the event stays on schedule.
#2 Projection mapping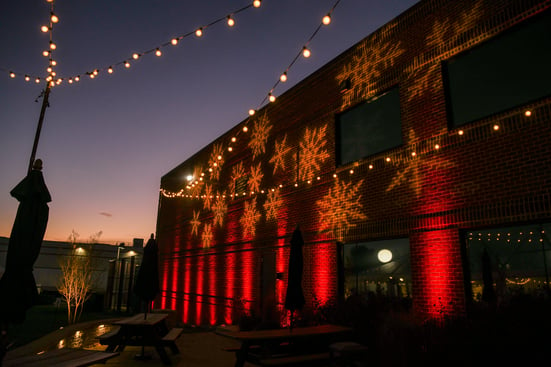 Image by: Ana Isabela Photography
In short, projection mapping is the art/science of projecting images or video onto a surface. These projections can be 2D or 3D, interactive or static, large or small. The only limitation seems to be budget. Obviously, large scale, 3D, interactive projections are going to be more expensive, but they're sure to amaze your audience. A large-scale example of projection mapping can be seen in the Sydney Opera House's Facade Projection, which turned the exterior of the building into a haunting artistic display.
Projection mapping software, equipment, and the pros to make it all work can easily run into the hundreds of thousands of dollars— and of course the larger it is, the more it will cost. But projection mapping doesn't have to be huge to make an impact. For example, you can do project mapping on a wedding cake. While small, wedding cakes are an amazing, accessible, and delicious way to showcase this technology and still awe your clients.
#3 Light shows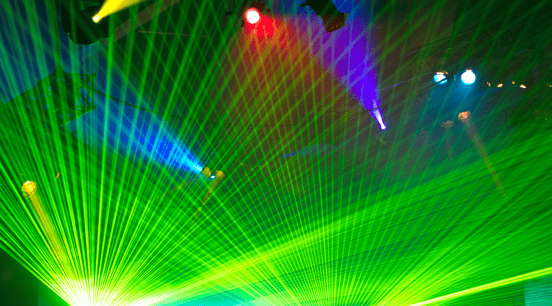 When I think of light shows, I automatically think of the holiday season. During the darkest days of the year, people flock to events featuring lights to brighten their spirits. Some of these shows are simple, showcasing well-placed string lights that blink in a charming rhythm. Others use professional A/V lighting that can move, flash, and change color. If you sync these lights to music, the light suddenly seems to come alive and dance. No wonder people line up to enjoy the spectacle.
But this joy over dancing lights doesn't have to be limited to the holidays. A skilled A/V professional can add light shows to any event, whether it be a conference, concert, art exhibit, or a wedding. All you really need is a place that can become sufficiently dark.
#4 Soundscapes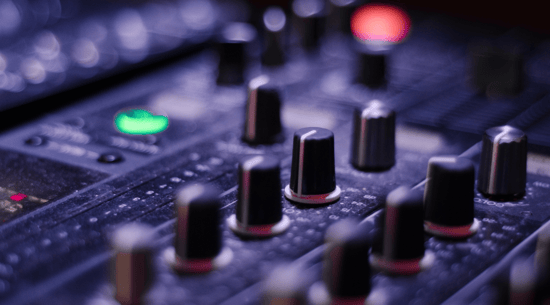 Sounds are the perfect way to influence moods. Think about music: we all have songs that automatically trigger feelings of joy or sadness. In a similar way, soundscapes can be used to influence moods, without getting in the way.
In the simplest terms, soundscapes are sophisticated background noise. They can be used to transport your clients to a far away beach, to a futuristic night club, or a secluded forest— it's all up to your client and the creator of the soundscape. If your client is trying to create a specific vibe or "feel" for an event, soundscapes are a perfect A/V tool to help achieve their goal.
A/V upgrades to an event are key for adding that extra wow-factor. From light displays to interactive wedding cakes to an under-the-sea themed birthday parties, trained A/V professionals can take a great event and make it spectacular.
Want more tips on strategy, trends, and best practices delivered straight to your inbox?
Jessica Powers
Jessica Powers is a Data Analyst for Goodshuffle Pro, powerful business software for event companies.