Are you up to date with all the latest inflatables trends in the events industry? We are less than two months away from 2020 (yes, only two!), so now's the time to be gearing up for the new year. The best way to do so is to stay in the know about the latest inflatable trends both for consumers and in the industry in general. As an inflatables rental company owner, you NEED to check out these trends that are coming in hot for 2020.
Competitive Games
You've heard of classic moon bounces. You also may have celebrated summer time with an inflatable water slide, or thrown your 3-year-old the coolest birthday ever with a Mickey Mouse-themed toddler inflatable. But have you ever rented an inflatable sports game (think: basketball, bowling, or even jousting!) or thought about trying an inflatable obstacle course? 2019 saw the rise of these two trends and 2020 is sure to see the strengthening of both.
Inflatable sports and competition games are perfect for birthday parties, graduation celebrations, elaborate tailgates, and more. Good weather is only made better by the addition of a fun inflatable! While inflatable basketball hoops have been around for a bit of time, companies are getting more creative. They're offering skee ball, bowling, soccer, axe throwing, darts, baseball, jousting, and even twister. Consumers love this trend so it's worth it to invest in some more daring equipment. You'll be bringing in more money for your company in the long run!
Inflatable obstacle courses are fun for all types of events! They are great for indoors or outdoors celebrations and are taking the events industry by storm. As technology continues to improve, more options for inflatables are becoming available. There are inflatable obstacle courses modeled after your favorite video games and those that are shaped like castles. Some even some with water slides attached. They come in all shapes and sizes and are a great investment, both for event planners as well as for inflatables rental companies looking to see major ROI.
Weddings
Who says bounce houses are just for kids?! Not us! People of all ages can enjoy inflatables, and the latest trend adults are jumping on (pun intended) is moon bounces at their weddings. Bounce houses are a great addition to a wedding because they are:
Unique
Aesthetically pleasing (think: all-white or muted tones)
Fun for all
As the owner of an inflatables rental company, you should know that maintenance of an all-white moon bounce is more costly and upkeep has to be done more frequently. However, you can also charge more per day for this style, especially since people are generally more willing to spend a higher amount of money on a wedding than on a birthday or another type of celebration.
Last Minute Planners
Unfortunately, with the rise of companies like Amazon, Uber, and other on-demand apps, consumers now believe that they can get anything they want in an instant. This is tough for complex businesses such as event rental companies, because you need to plan for what inventory you have available, collecting payments fast, and ensuring you have the proper crew.
Luckily, there's software like Goodshuffle Pro, which is the best software for rental companies specializing in inflatables. Inventory tracking is made simple. When someone is requesting a last minute add or change, you have full visibility into what's available. Clients are prompted to pay right away and can even auto-pay, so you don't have to deal with bill-collecting. Plus, all transactions with your client and communication with your crew can be done digitally. This is seamless and more efficient, so you can keep up with the pace of the last minute demands.
2020, here you come! Bring home the big bucks by investing in creative inflatable sports games and obstacle courses. Consider offering some wedding-only bounce houses to target this new market! Invest in super speedy cloud-based software to streamline your business and stay in control as the world of event continues to boom. By keeping up with these inflatables trends, you will be sure to knock the socks off all your clients in the new year.
Want more tips on strategy, trends, and best practices delivered straight to your inbox?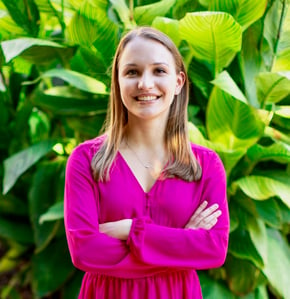 Carmen Bodziak
Carmen Bodziak is a Marketing Manager at Goodshuffle Pro, a party and event rental software company dedicated to empowering those in the events and decor industry. She also currently oversees the Goodshuffle Blog.