We cover everything you need to know about website strategy for your event company. Click a topic to scroll down.
Why should an event company have a website?
As an event professional, your website serves as a digital showroom to showcase all your fantastic inventory. It's your opportunity to market your event business to your clients while they're on the go. It's also one of the best ways to make a great first impression, since most people scope out a business online before making a purchase. If your clients are pulling up your website and your competitors' websites to compare and contrast, you want to come out on top by emphasizing what makes you unique.
In today's age, it's expected that every business has a website. Organic search, which occurs when someone Googles something (types a query into a search bar), is becoming a huge winner of website traffic that turns into paying customers. Having a website means that your business is more likely to be found by clients looking for the services you provide.
Your website also makes your marketing and general business efforts more measurable. Wondering how many eyes are on your inventory? Curious to know which of your services people are most interested in? How about the number of quote requests you get each month? All that and much more can be found by digging into your website analytics. With this information in hand, you're well equipped to make even better future decisions for your business.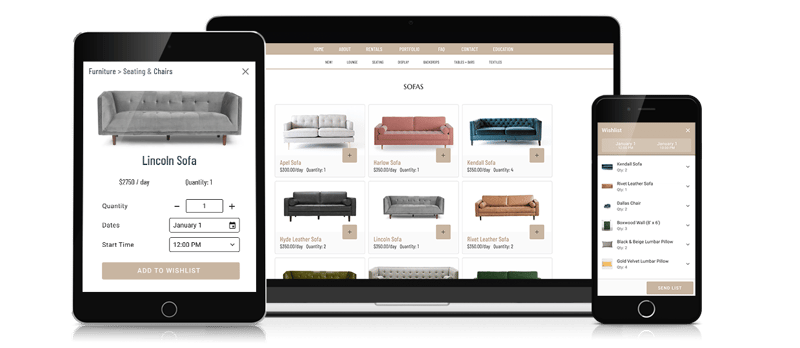 5 easy steps to create a website strategy
Either you have a website already, or you're looking to build one. How do you go about creating a website strategy that's going to work for you and your event company? Creating a good website takes research, effort, and time. However, the results pay off when you have an influx of clients coming in because they saw your professional and polished website.
1. Determine overall goals for your website
As an event professional, your main goal is most likely to have someone submit a quote request or get in touch with you about booking your business for an event. You may have some smaller goals, such as completing the sign-up for your newsletter, or downloading a how-to guide. Whatever it may be, you want to direct your visitors to the proper spot to complete these goals.
2. Choose your brand image
What message do you want to send to visitors when they're on your website? What makes you different than your competitors? Everything on your website, from the colors and fonts, to the images and layout you choose affects a visitor's view of your brand.
3. Create an outline of your sitemap
While you'll eventually want a digital sitemap (typically in the form of an XML document), you'll first start out with a physical outline of how you want your website to be built. This means drawing out the way you want your menus and pages to link together.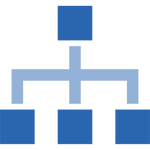 4. Set pathways for visitors to reach your set goals
If your main goal is to get a visitor to contact you to start the quote process, then you want to make that as easy as possible for them. This means adding links to all your pages that go to the contact form, wishlist builder, or landing page. This can be done by adding calls-to-action (CTAs) or hyperlinks.
5. Continuously measure results and make improvements
Your website will constantly evolve as you get to better understand your traffic patterns. Use tools like Google Analytics and Google Search Console to measure the success of your website. From there, you'll be able to make the best decisions for your event business.
What is SEO?
SEO, or Search Engine Optimization, is the process of creating a website that can be found by search engines. You've spent all this time creating a website— don't you want people to see it? SEO is one of the best marketing strategies for event professionals because:
It brings in more new, qualified leads to your business.

You drastically stand out from competitors.

It's cost-effective, since you're targeting users who are actively searching for information on a certain topic.
There are many benefits to event companies when they spend time creating an SEO strategy.
Some of the main benefits of SEO are:
More brand credibility and recognition

Higher click-through rate than paid ads

An increased return on investment

Constant opportunities for improvement

Accessibility to people of all technology experiences and backgrounds
Through a combination of different strategies, you and your event company can move to the top of Google, grabbing the #1 spot over your competitors.
There are multiple components to SEO, including:
Formatting and HTML

Content

Technical aspects
Everything from titles and alt text, to blog posts and keywords, to page load speed and backlinks impacts your SEO. Measure your success with various tools so that you know where you're acing the SEO game and where you can make improvements.
What is UX?
UX, or user experience, is a user's overall experience with a product. It typically refers to ease of use and functionality, as well as how enjoyable the product is to use. You want to create a website that gives your visitors the best possible user experience.
SEO is what first gets people to your website, but UX is what makes people stay.
UX is important for your event company's website because it:
Engages and entices visitors

Solidifies a first impression

Makes it easy for visitors to complete the ultimate goal (e.g. submitting a form, sending an email)
The whole point of UX is to create a positive, enjoyable experience for anyone who visits your website.
UX Tips for Beginners
UX is incredibly important for any event professional's website.
When thinking about UX, you consider everything from fonts and color scheme, to calls-to-action (CTAs), plus the time it takes for the website to load. Do you have lots of stock photos or confusing language? Both of these make for a less-than-ideal user experience. Or, are you giving your users a clear way to contact you or take some other next step?
There are four guiding UX principles:
Design with the user in mind
Be consistent across all content and pages
Clarity is key
Simplistic designs are often the best
You can learn a lot by running a miniature user test, in which you have a friend or family member who isn't familiar with your website explore it. While they click around your site, have them voice their thoughts out loud. What are they clicking and why? Learn what they like and dislike about the experience so that you can make improvements going forward.
You should also pay attention to your own experiences on others' websites. What frustrates you when you visit a new website for the first time? Is there anything other websites have that you really appreciate? Take a look at your competitors' sites as well, so you can see the areas they excel in, as well as the areas of opportunity.
What is a Website Audit?
A website audit is an examination of your overall website, as well as the individual pages. When performing an audit of your website, you should look for factors that may be causing harm to your search engine optimization or user experience.
The benefits of a website audit are:
Improved technical website performance

Better SEO

More paying customers
When you are able to find errors and fix them, your website will be in its best shape. This means more happy, paying customers for your event business.
It's important to know what to pay attention to and measure when performing a website audit. After you've analyzed your web traffic and page performance, you'll have a good idea of your business goals for your website. Do you want increased traffic? More conversions? A more professional user experience? Whatever your goal is, be sure to have it in mind when you're performing your audit.
Areas to observe in a website audit:
Content

User journey and experience

Optimization for search engines

Technical performance
Want to take a deep dive into your go-to website audit checklist? Check it out for free below!
The 5 Best Website Audit Tools
Woorank provides a lengthy site analysis report that dives into a bunch of different areas, including SEO, usability, social media, and more.
Screaming Frog's SEO Spider looks at your website and flags any areas that require SEO improvement. Audit redirects, find duplicate content, generate sitemaps, and more with this tool. You can crawl 500 URLs for free to try it out.
This free Chrome extension detects and highlights broken links on any webpage. Say goodbye to 404 error pages with this handy tool!
Moz is an all-in-one SEO tool that highlights broken links, duplicate content, issues with meta descriptions, and more. Check your keyword rankings and your inbound link status here as well. Moz Pro is great for conducting a competitor analysis too.
These free tools from Google give you insight into your entire website's performance. Learn hot keywords in your market, find URL errors, and identify areas of improvement for page load speed.