Every event pro out there wants the secret to success. While there isn't one formula that always works for every person or company, it can typically be said that a combination of grit, positivity, and a little bit of flair will help you stand apart from the rest. Savannah Vintage & Event Rentals, a rapidly growing business in Savannah, Georgia, perfectly exemplifies this combination, so much so that the company has doubled in size in only one year after being purchased by new owners Jordan and Rachel Strickland. Could your event company be next? Learn how these ambitious new owners are making waves in the industry and how you can do the same!
An Event Pro Team Pioneering the Industry
Located in eastern Georgia, Savannah Vintage & Event Rentals is a gem. The event company was founded in 2014 by Dan and Stephanie Hoey, a couple who had noticed a large demand for vintage rentals in the area as they had been planning their own wedding a few years prior. While this demand was growing, there weren't any companies to supply potential clients with what they were looking for. Thus, the couple started their business as Savannah Vintage Rentals.
In late 2018, after a successful five years, Jordan and Rachel Strickland bought the company from the Hoeys, and in the last year have doubled the size of the business and expanded the inventory collection. The Stricklands are a powerhouse husband and wife team, whose two little girls love to help out wherever they can! Rachel worked as a wedding photographer before becoming owner of the business, bringing tons of event pro experience and lots of go-getting southern charm to the table.
A New Name Spurs Huge Growth
After purchasing Savannah Vintage Rentals in 2018, the Stricklands changed the name of the company to include "& Events", broadening their horizons beyond strictly vintage rentals and pulling in more widespread clientele. In the last year, Savannah Vintage & Event Rentals has established themselves as an enthusiastic and powerful event company that will work with clients to produce their perfect event.
As the business grew in the last year and the Stricklands brought in more clients and invested in more inventory, there came a need for increased organization and a revamp of the website. This is where Goodshuffle Pro came in. After six months of ownership, the Stricklands knew they needed to bring in new technology (event rental software!) because the number of different systems they were using to run their business was getting out of hand. To reduce stress and keep making their customers happy, they needed a platform that would streamline all of their processes and give them peace of mind.
After seeing a blog post about Goodshuffle written by rental business strategist Lané Richards, Rachel did her research, knowing she wanted to figure out the best way to upload inventory to her website. She settled on Goodshuffle Pro and hasn't looked back since. What keeps her coming back is the customer service– she's dubbed the customer success team "some of best people she's ever worked with."
Inventory, billing, and communication with both clients and the team have been streamlined, helping the Stricklands expand their incredible company. As the couple shoots for the stars, the team at Goodshuffle Pro is excited to experience the journey with them.
It All Comes Down to the People
Even with all the success the company has seen, Rachel says the most rewarding part of her business is the relationships she gets to build, whether that be with her clients, her team, or her family. She and her husband Jordan are a dynamic duo of a team— and her daughters are never far behind! Running Savannah Vintage & Event Rentals is something the Stricklands can do as a family while setting up a future for their little girls.
The Stricklands also place a ton of value on their team and their clients. Savannah Vintage & Event Rentals works with various other event companies, from other vendors to planners. As Rachel says, "The peak of my success has been my relationships."
One of her favorite memories of the last year was when she and a few other vendors were working to put on a huge wedding. The bride's vision was gorgeous and included a lounge of vintage furniture around the dance floor, amidst many other beautiful pieces. During the day, however, rain started pouring out of nowhere. Immediately, all the team members from the various companies were running around, bringing everything inside.
The incredible teamwork and positive attitudes of each and every event pro in attendance pulled the event together, and Rachel says it was one of the most beautiful events she's ever seen.
Her parting advice to new event pros just starting out in the industry are to build these important relationships and to invest in a solid system to support and streamline all your business's processes. She gives a special shoutout to both Lauren Rich of Lauren Rich Creative and Jon Morton of Goodshuffle Pro for bringing her website vision to life. We at Goodshuffle believe the right party rental software can do amazing things, and are so grateful to have the opportunity to work with Savannah Vintage & Event Rentals and can't wait to see what's in store for this pioneering team!
Feature Image by Izzy Hudgins Photography
Curious how Goodshuffle Pro can empower your event company's success?
Jordan and Rachel Strickland are a husband-and-wife team with a passion for providing event rentals to create an unforgettable experience for their clients and their guests.
They first met in 2004 and have been a team in every way possible ever since. Both serial entrepreneurs, they have been extremely successful in serving our clients. The Stricklands are also no strangers to working in the wedding industry, as Rachel has been a professional photographer since 2013. They both enjoy the opportunity to continue to work alongside wedding industry professionals and other creative entrepreneurs.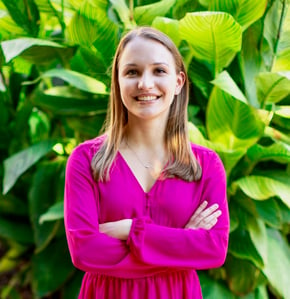 Carmen Bodziak
Carmen Bodziak is a Marketing Manager at Goodshuffle Pro, a party and event rental software company dedicated to empowering those in the events and decor industry. She also currently oversees the Goodshuffle Blog.